Breast Augmentation Silicone Implants with IMF Incision*
Procedure Details
A young patient came in to the office displeased with the size of her breasts, and wanted an enhancement that would give her overall larger breasts. She expressed her sense of self-consciousness in her smaller breast size and told Doctor Mountcastle she wanted larger size that would be noticeable in all types of clothing from a bathing suit all the way to a thick sweater. While the patient absolutely wanted more volume, she still desired a natural enhancement with a natural look. Given her case, we decided on 350cc silicone implants that were placed sub-muscular (under the muscle) through an IMF (Inframammary Crease located underneath the breast.) One pro of this method for augmentation is that it gives breasts a more natural look, which our patient wanted. Sub-muscular implants are also prescribed to smaller, leaner patients such as ours weighing 125 lbs at 5 foot 4 inches tall. Read below for pro's of a sub-muscular implant placement. Our patient was thrilled that her new breasts were perfectly perky with gorgeous natural volume!
More
Right Partial Side View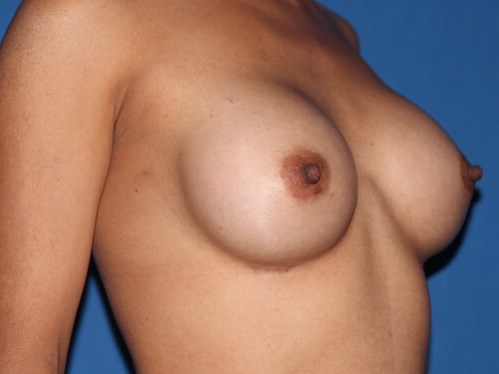 Great natural volume with the 350cc silicone implant. Breasts are rounded and have fallen achieving patient's desired results. More
Left Partial Side View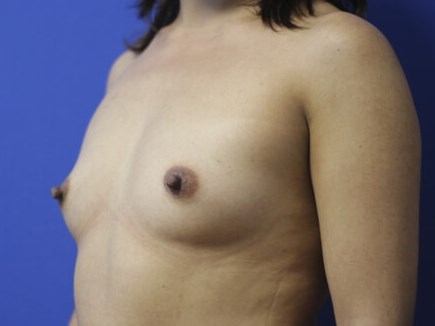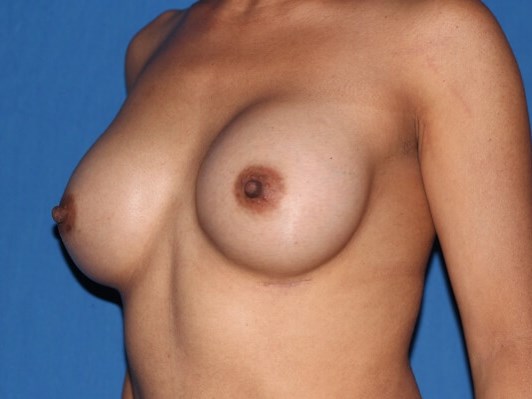 Patient achieved her desired look with her choice of implant. Her breast are fuller and rounder giving her a more youthful look. More
Pro's: sub-muscular placement
Decrease risk of bottoming out
Decrease the risk of rippling -- the muscle does a good job of masking any of the implant attributes i.e. implant is less noticeable and visible to the eye
Provides more natural looking results
Less disruption to mamogram imagery
This placement poses a safer and smarter option for patients getting an augmentation AND a breast lift, or considering a lift in the future due to the fact blood flow remains steady and healthy to the nipples.
Location